Sweet Valentine's Day Home Maintenance Tips
Valentine's Day is around the corner and LOVE is in the air! When planning that special evening don't forget to be sweet to your home too! Here are some tips you can use to show your house it is close to your heart:
**Give your Oven some Lovin'**
Are you cooking dinner for two on the 14th? If your kitchen appliances are in need of cleaning be sure to let your field engineer know so we can schedule our preferred vendor to bring your appliances back to life. 
**Let the Sparks Fly (in the right direction)**
Nothing beats candlelight and lounging by the fireplace. Be sure to keep flames a safe distance from flammable materials around the house and allow us to schedule your annual fireplace maintenance.
**Get ready for a Romantic Getaway**
Please do not leave town without notifying your field engineer. We will be sure to keep a loving eye on your home while you are away!
Worth Repeating…
Spring Clean Up Recommendations
Pressure Cleaning: Whole House, Roof Tiles, Pavers, Driveways & Walkways and reseal/paint as needed.
Countertops: To keep your solid surface counters looking beautiful, clean regularly with a natural PH stone cleaner and reseal them yearly.
Walk Out Decks: Inspect deck surfaces for cracks in coating, loose boards and surface sealers. Minor maintenance and repairs extend deck life and help avoid costly water damage to the building components below.
Exterior & Door Trim: Caulking and painting keeps your home water tight. Improve the appearance, extend major maintenance periods and reduce chances of water intrusion that may lead to mold and mildew.
---
A Note from Chuck & Greg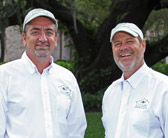 Don't forget to follow our cold weather tips when we experience those rare FLA freezes!
---
Home is the Heart of Life… home is where we feel at ease,  where we belong.
-Unknown
For Valentines Day,  approximately 110 million roses, the majority red, will be sold and delivered with-in a three day time period