Happy Holidays!!
All of us here at TotalCare Orlando would like to wish you and your family a most joyful Holiday Season!!
It's that time of year we would also like to thank you for being a part of our family and entrusting us with the care and health of your home.
We look forward to another great year ahead, as we continue to grow and find new and innovative ways to keep your home looking beautiful and running smoothly!
---
The Weather Outside is Frightful?
Not yet, but just in case here are some reminders to help protect your home in cold weather:
1.  Cover  fragile plants, trees & shrubs
2.  Turn on Pool Pumps and leave them running when the temperature gets close to freezing or below.
3.  Turn on Solar Panels-Leave water running through pipes.
4.  Cover any exterior exposed pipes.  Back flow valves, Hose Bibs Etc. Disconnect hose and stow away.
5.  Turn off irrigation system.
6.  When away,  leave one indoor faucet on slightly  (drip only).
7.  Don't over load outside GFI outlets with Christmas lights. (read your package recommendations carefully.)
Your Field Engineers will be happy to assist you with and provide more information for all of the above.
---
A Note from Chuck & Greg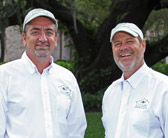 Important Safety Reminder, before you use your fireplace this season consider having your chimney cleaned. We recommend it be swept annually.
It has been our pleasure taking care of your home this past year, and we look forward to being there for you in the New Year!
---
"One of the most glorious messes in the world is the mess created in the living room on Christmas day.  Don't clean it up too quickly."
– Andy Rooney